Obviously, as an experienced hunter, you have a list of things you like to carry. However, this is an Alaska caribou hunting gear list that we received directly from one of our Alaskan outfitters. There may be a few things here that you hadn't thought about.
Weight is the first thing to consider on your Alaska caribou hunting gear list.
Overall Total Weight of this Gear List: 204.73 lbs + [Your Body weight]
If you stick to this Alaska caribou hunting gear list, weights will vary, but should get you close. Be sure to do your homework so that you are properly prepared for your hunt. If you have questions about this gear list, be sure to contact us or your outfitter.
Clothing
Total weight of your clothing will be approximately: 16.12 lbs
Keep your clothing lightweight, warm and waterproof. Synthetic materials work best for hunting clothing due to their drying and wicking capabilities. we suggest you do not bring cotton. It is slow to dry, and does not wick away moisture. In short, COTTON KILLS. Blaze orange is NOT required in Alaska.
Footwear
Total weight: 11.7 lbs
Make sure you have broken in your hunting boots (including your waders and wading boots). The #1 thing we hear from our hunters when they return from their caribou hunt is that tundra is awful to walk in. It's like trying to walk on frozen rolling footballs. A great pair of comfortable, well fitting, lace up, supportive hiking boots are ESSENTIAL!
Hiking boots: Lowa Tibet GTX *5.13 lb.
Rubber boots: Irish Setter neoprene uninsulated *4.29 lb. (may forgo)
Gators: Outdoor Research *.63 lb. (may use Sitka Stormfront)
Waders: Match your waders to the area you will be hunting. Consult with your outfitter. *.9 lb.
Socks: Darn Tough & Farm to Feet 4 pair *.75 lb.
Camp Shoes: Crocs work great and are lightweight.
Electronics/Photography
Total weight: 1.61 lbs
Your smartphone will probably be your go to. That being said don't forget external chargers, they are awesome. Solar chargers don't usually work very well because overcast days are the norm.
Phone with case: *.55 lb.
Phone Scope bracket: *.08 lb.
External chargers: Poseidon x2 *.55 lb.
Charging cords: Poseidon cord, Suunto cord, wall charger *.24 lb.
Flashlights: Petzl Tikka & E-lite headlamps *.19 lb.
Possibles
Total weight: 2 lbs or less
Definitely bring something as a fuel source such as wet fire or trioxane tablets.
Batteries: AAA & AA Energizer Lithium Ion (Keep your batteries in something warm (like a wool sock) while you are in the field. Cold will drain them.)
Patch kit: Misc. glues and tenacious tape patches
Weapon cleaning & maint. Kit: Leatherman Skeletool CX w/ bit set, misc. small tools for rifle & oil (bits for scope caps and lug bolts) *.5 lb.
Tape: duct tape & leukotape
Fire kit: Trioxane, flint/steel, lighters, waterproof matches
Insect repellent: 100% deet
Extra 550 cord: 50-100 ft.
First Aid Kit
Total weight: 1 lb or less
IFAK
Band aids/basics
Meds: pain killers, anti-diarrheal, antibiotics, energy
Chapstick
Hygiene
Total weight: 1.5 lbs or less
Definitely take these items!
Baby wipes
Toothpaste & brush
Eye Drops
Skin Moisturizer
Paperwork
Total weight: 1.5 lbs
License & Tags (Non-Res Hunting License, Harvest tickets for caribou, Locking tags for caribou bear and wolf, everything signed)
Be aware of the Alaska caribou hunting regulations and take a hard copy into the field with yoiu. For example: Alaska requires ALL meat to be packed out (bone in) prior to packing out the antlers and cape. This includes the ribs and neck meat.
Copy of Contracts: Both Agent and any from Outfitter/Transporter (Inside ziplock)
Transfer of possession forms: From Outfitter (inside ziplock)
Write in the rain journal and Pen
Weapon(s)
Total weight: 17.14 lbs
Our hunters use different setups from 7mm Rem mag up to 338 Lapua; the 300 Win mag seems to be the more common choice, as well as Barnes bullets.  I also wouldn't buy a new gun over it if you have something in that range. Side arms are just matter of preference. A pistol is fun for ptarmigan hunting after you shoot your bulls.
Rifle & ammo:  *11 lb.
Pistol & ammo: *5 lb. (optional)
Hard travel case: Pelican 2 rifle with customizable foam *N/A
Soft case for small plane travel: *1.14 lb. (optional)
Pack
Total weight: 10.83 lbs
Pack frame/bag combo: EXO 500 or Kifaru Hunter frame, DT2 bag, Guide Lid, small belt pouch, Nalgene pouch *7.38 lb.
Hauling attachments: Cargo net & lashing strap, & gun bearer *1.5 lb.
Walking sticks: Easton Carbon Trekkers *1.05 lb.
Lightweight tarp: Kifaru Sheep tarp with MSR Groundhog pegs*.9 lb.
Optics
Total weight: 10.64 lbs
I feel that a decent 10×40 or 8×40 is adequate. A spotter isn't critical, but it would be nice.
Binoculars & harness:  Vortex Razor 10×42, Sitka Bino harness *2.86 lb. (w/rangefinder & pouch)
Rangefinder & pouch: Leupold TBR 1000, FHF pouch ***
Bino tripod adapter with qd plate: FOR adapter w/qd plate *.19 lb.
Spotting scope with qd plate: Vortex Razor 27-60x85mm angled w/qd plate *4.38 lb.
Tripod & head: Slik 624, Manfrotto 700RC2 panhead *2.93 lb.
Foam butt pad: Z seat *.08 lb.
Cleaning items: Lens cloth, Lens pen *.2 lb.
Land Navigation and Communication
Total weight: .79 lbs
A decent GPS and a compass are important. Lots of these areas are flat and everything looks the same when you start getting away from camp. Especially in the alders, would be easy to get lost. Learn to use some kind of coordinates whether it is latitude/longitude or UTM grid coordinates simply because if something were to happen, being able to communicate precise location is necessary. Also good to set waypoints when you find good calling spots.
Camp Gear
This gear list is for two caribou hunters. Adjust accordingly.
Total weight: 86.53 lbs (not including fuel and salt)
Prior to setting up your camp, survey the area; try to locate your tent(s) on a cleared off, level spot next to trees or bushes that will protect you from the wind. Keep food items in totes with lids, out of and a short distance away from your tent.
Tent: Cabelas Geodesic 6 man *33.15 lb. (I wouldn't recommend a floorless tent as most of these areas don't have the solid ground for it. Also don't bring too large of a tent because the flat spots that you can find usually very big.)
Cots: Cabelas lightweight x2 *22.15 lb.
Tarps: 2-3x Lightweight 10×10 ft. *5 lb.
Stove: Coleman 2 burner *8.95 lb.
Lantern: Primus Micron *.27 lb. (Take extra mantles.)
Heater: Mr. Heater Little Buddy *4.29 lb.
Chairs: x2 Tilak Sika Ultralight Camp Chair *3.64 lb.
Cook set: Primus Litech pot/pan *2.02 lb.
Utensils: GSI kitchen set *1.16 lb.
Long spoon x2: *.1 lb.
Plate, bowl, cup set x2: Fozzils sets *.5 lb.
Drinkware: Yeti Rambler Bottle *1 lb.
Pocket Boiler: Primus ETA Lite *.9 lb.
TP & Paper towels: *2 lb. (2 rolls paper towels, 6 rolls TP)
Aluminum foil: *.55 lb.
Soft sided Cooler: *.85 lb.
Propane & Isobutane Canisters: Purchase in Alaska as you can't take them on a plane.
Dish Soap
Salt for Capes: Purchase in Alaska or prior to trip 5-10 pounds.
Sleep System
Total weight: 6.48 lbs
Sleeping Bag: Kifaru 20 degree Slick Bag *2.84 lb.
Air pad: Big Agnes Q-core SLX *1.56 lb.
Pillow: Nemo *.19 lb.
Woobie: Kifaru *1.89 lb. (optional)
Water Storage/Purification
Total weight: 3.68 lbs
Storage
Total weight: 2-3 lbs or less
Dry Bags: Outdoor Research 55L & Ditty sacks
Compression sack: Kifaru 5 String Medium
Lightweight pullouts: Kifaru Lightweight Pullouts
Contractor bags: 1-2 Large heavy duty
Lightweight trash bags: 2-3 Hefty trash bags
Ziplocs: Quart & Gallon, small assortment
Game Processing Gear to Take to Camp
Total weight: 5.31 lbs
*Select an area away from camp for your "privy," and cover waste prior to leaving. Consider burning food items, which are odorous or greasy to prevent problems with bears. Bag up metal and other garbage items to be hauled out.
Food
This food list is for two caribou hunters. Adjust accordingly.
Total weight: 25-30 lbs or less
This is just an example of food you could take that will keep your weight reasonable. Feel free to mix and match, but be aware of weight.
Breakfasts: Off Grid Predator Fuel and "real food" (egg beaters, sausage &/or bacon)
Lunches: Misc. dehydrated & real food (Off Grid, Peak Refuel, Mountain House, PB&J, Salami cheese n' bagel)
Dinners:  Off Grid, Peak Refuel, Mountain House
Snacks: Probars, Probar Bolt Energy Chews, Dehydrated snacks, jerky, PB
Coffee: Dark Timber packs
Drink mixes: Hot Chocolate mix, Propel packs, Renu go packs
Real food for breakfasts & lunch: Meats, egg beaters, bread, PB&J
Seasonings & Olive oil: Garlic powder, Sea Salt, & Pepper, Olive oil packets and small bottle
Supplements/daily vitamins etc.
*Do not cook inside your tent. This can deplete oxygen and can damage the ten leaving you without shelter. Use of your camp stove to heat your tent can cause you to run out of propane. Bringing the proper gear will have you outfitted to be comfortable without wasting fuel.
Game Processing Gear to Leave at the Hangar
Packaging for skull: bubble wrap, shrink wrap, cardboard, duct tape, packaging tape.
Meat storage/freezer bags: Gallon & Quart Ziploc freezer bags
Knife set & sharpener: Outdoor edge kit
Hard Cooler: Igloo 100
ADDITIONAL NOTES:
This Alaska caribou hunting gear list would not be complete without these tips. Be sure you are fully prepared, and you will have the hunt of a lifetime.
Hunt Insurance
Any time you go hunting in Alaska, or anywhere for that matter, you should insure your trip. If you're thinking about chancing it, think again. ALASKA WILL HUMBLE YOU. Stack the odds in your favor.
Weapons and Ammo
Alaska law does not separate licenses or seasons by weapon.
Appropriate caliber selection is important. We recommend .30 caliber or larger. Smaller calibers will work just fine for caribou, but remember you are in grizzly bear country.
Select PREMIUM ammo and sight in prior to your hunt. While on a commercial flight, your ammo needs to be in the original box or a container specifically made to hold appropriate ammo.
Alaska archery requires a 40 lb. minimum draw weight for caribou hunting.
Also required is a minimum of 7/8″ broadhead with a 300 grain minimum (shaft/tip) weight. No mechanical broadheads are allowed.
Field Care of Trophy
We recommend consulting your taxidermist prior to your caribou hunt for instructions on caping and fleshing your trophy. Heads must be caped and fleshed in the field with the ears and lips turned and salted. We also recommend splitting the skull caps. They can easily be put back together by your taxidermist, and you will save hundreds of dollars on shipping fees. While in the field, keep your cape opened up, out of direct sunlight, and preferably hung in a small tree or bush so it can have air circulation and stay cool.
Meat Care
All edible meat must be salvaged. You are responsible for packing all edible meat back to the runway at your camp (including rib and neck meat). Meat of the front quarters, hindquarters, and ribs must remain on the bone until removed from the field (or eaten). Keep meat out of direct sunlight and a short distance away from your camp. Set it so it can cool and have circulation all around it. Don't put your meat in a pile – it will either quickly spoil or freeze into one solid hunk. Antlers MAY NOT be removed from the kill site until ALL salvageable meat is removed. DO NOT STORE YOUR MEAT IN LAKES OR RIVERS.
Fishing
It is likely that you will be dropped near a stream or river which will probably contain Arctic char and grayling. If you wish to fish an Alaska fishing license IS required.
Wolves
We recommend that you purchase a wolf tag. They are a great bonus to a caribou hunt. Harvested wolves must be skinned (hide and skull) for transport out of the field and then sealed by local troopers or Alaska Department of Fish and Game.
Bears
You are in grizzly country. Respect them. If you see a bear, avoid it if possible. If you encounter a grizzly, make noise. YELL continuously. Stand up and make yourself look as large as possible. Do NOT run. Defend yourself by shooting the bear as a last resort.
Staying Warm
Moisture is your enemy!
Your sleeping bag will hold moisture and a few days build up may make it lose its ability to effectively insulate you. Open bags up, hang, etc to let them dry as needed.
Wet or damp clothing can be dried in the sun or next to a small fire… be careful.
Damp clothing can be worn in your sleeping bag and your body eat will dry it overnight.
Utilize layering of clothing during the day, and do not overdress while hiking. Sweating will make you cold for hours.
Getting Picked Up
On the day your are to be flown out, have your gear packed and ready to go. Do not pile gear/meat/antlers on the runway area. Keep it assembled off to the side where it was unloaded. Depending on the weather, you may need to keep a tent up for shelter.
Stay near camp and be attentive to air traffic. Pick up times are weather dependent and not time specific. If the plane comes to get you and you're not at camp or ready to go, the pilot may not be able to wait for you. If weather is unflyable, don't panic. Remain at your camp and know that you will be picked up as soon as the weather breaks.
What about hiring an outfitter?
We have some incredible fully-guided caribou hunts that have higher success on big bulls.
Ask Us About a Hunt Request pricing and availability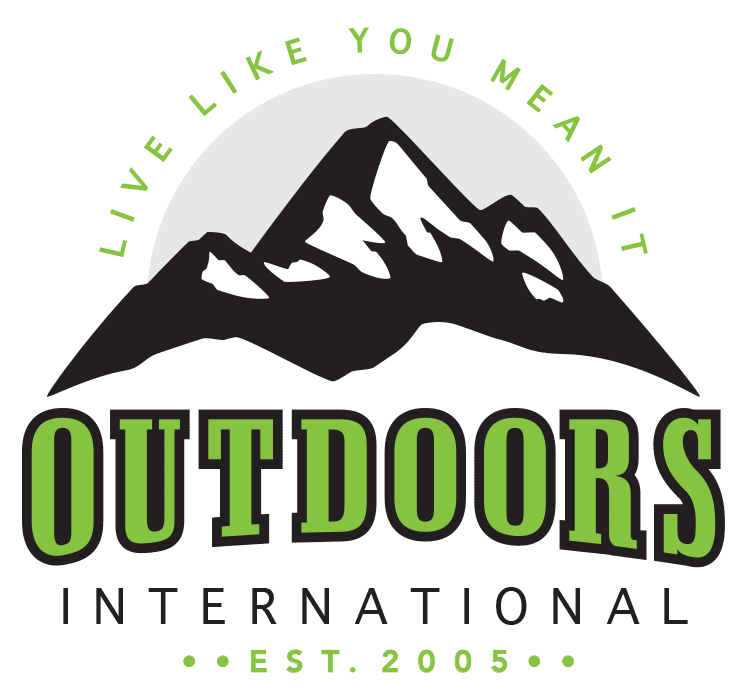 Discover why thousands of people have trusted Outdoors International to help plan their hunt.
Outdoors International has a team of hand-selected hunting experts to help you book your next hunt. Our job it is to help you in researching, booking and planning a great hunting trip with one of our amazing outfitter partners around the world.
My hunt was absolutely top notch.
The outfitter is a fantastic man and incredibly hard working and knowledgeable, there is no doubt he will do everything within his power to make peoples hunts successful and enjoyable. I plan to do it again with him next year for sure.
Wade Zuver
Our hunt was excellent.
We saw bucks every day along with all other sorts of wildlife. Mountain goats, bears, and foxes were common sights. Fishing and crabbing was special bonus. The food was excellent, the crew was amazing. Outdoors International did a great job of finding exactly what we were looking for.
Jesse Neveau
What an amazing experience!
The hunting lodge was out of this world!, Rooms, food and the scenery were all A+. Our guide was exceptional and had us on Shiras moose all five days. We saw over 30 total with at least 10 bulls. They had a plan for everything including taxidermy and game processing.
Kayla Redmon
LET'S START PLANNING YOUR NEXT TRIP
Be specific so we can find exactly what you're looking for.