---
Steelhead Fishing
Wild steelhead are an amazing fish that takes some skill and determination to catch. Many anglers like steelhead fishing because you do have to work hard and it is a real challenge to land one. The effort put forth and possible days without a fish offer you an unforgettable experience when you do get lucky and finally get to touch one!
Often time's steelhead are lost within the first 10 seconds. Just long enough for you to realize there was one out there and it was real and to warm you up for an instant and keep you fishing all day with an added confidence that it could happen at any time. The worst is when they come off right at your hands, you were going to let him go anyway but just wanted to admire him for a second as you pop the hook out.
Ready to go steelhead fishing?
Lots of people love to fish, but steelhead fishing in particular has proven addicting for more than a few anglers.
Ask Us About a Fishing Trip
Request pricing and availability
Discover why thousands of people have trusted Outdoors International to help plan their trips.
Outdoors International has a team of hand-selected fishing experts to help you book your next trip. Our job it is to help you in researching, booking and planning a great trip with one of our amazing outfitter partners around the world.
Second time I've done this particular trip. The steelhead run was awesome! The food was even better than the first time, which is hard to imagine, and our guide is the best there is! If catching big fish is your thing I highly recommend booking through Outdoors International.
We had an incredible time fishing in Mexico. We've already booked our next trip and can't wait to go back!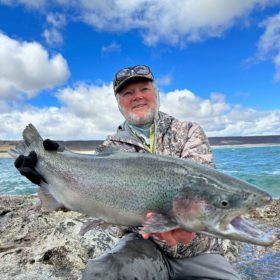 I expected big trout on this trip based on all the stories I've read over the years, and I was not disappointed! I broke my own personal best rainbow trout record at least SIX times on this trip, with the biggest being a 16 pound beauty.
I will be going again soon!