Knowing where to fish for steelhead is just part of the battle. You have to know when to go and which fishing guide to book with. Outdoors International is your go-to source for the best fishing in the world with the best guides and outfitters in the business.
Wondering where to fish for steelhead?
Here are our choices for the top steelhead fishing destinations in the world (in no particular order).
Whether you're just learning how to fish for steelhead, or a seasoned pro looking for that perfect destination, we can help… and we'll do it for free.
Start Planning your Fishing Trip
Alaska
We're confident that anyone who books one of our Alaska steelhead fishing trips will have an unforgettable experience.
Outdoors International offers steelhead fishing in Alaska for any skill level. Whether you're a fly fisherman looking for some great indicator fishing, or even spey fishing, we have the trip for you.
The Kenai Peninsula – This is one of our best trips, PERIOD. The many river corridors of the Kenai Peninsula attract fisherman for any number of species. Anglers can expect to catch fish and that is unheard of in the world of steelhead fishing! These guys really care about the fishery in which they fish and are excited to show off what they have to offer. The group of guides here are experienced and willing to help teach new anglers how to catch steelhead. The equipment provided, accommodations, and level of service is top notch.
British Columbia
Anglers travel from around the world for the first class steelhead fishing that can be found in British Columbia.
If you're wondering where to fish for steelhead, BC HAS to be near the top of you list. Steelhead fishing hotspots in British Columbia include the Skeena River, Fraser River, Bulkley River, and the famed Dean River.
Skeena River – This river and its tributaries are famous for winter steelhead. It  flows 350 miles before it meets up with the Chatham Sound and subsequently the Pacific Ocean. The Skeena, along with its tributaries, has nearly endless winter steelhead fishing opportunities.
Kalum River – Steelhead can be found in the river year-round. However, they're especially prominent April through May and then from August through October.
Kitimat River – The Kitimat River provided the perfect habitat for big healthy steelhead returning to the freshwater. As one of the more accessible rivers, the Kitimat offers convenience on a world-class river. This river has long broad runs as well as numerous buckets that hold fish.
Dean River – Your best chance at the biggest steelhead in BC is here. The Dean River is one of the most coveted angling destinations for summer steelhead and for good reason! The Dean River Steelhead are legendary and known worldwide for their spectacular strength and beauty.
Copper River – The Copper River is located right outside Terrace British Columbia. The Copper River is famous within steelhead circles and rightfully so. Similar to a handful of other rivers in the area, the Copper is can be very good dry fly fishing for steelhead. The Copper is riddled with great runs and productive riffles. Cast downstream and let the drag carry your fly across the river or feel free to fish dry flies upstream.
New York
New York offers a surprisingly great opportunities to steelhead fish thanks to the introduction of rainbow trout in the 1870s.
The species did well in their non-native habitat, and both recreational and limited commercial fishing for their descendants continues today. This is great news for those on the eastern seaboard who might not want to head all the way out West.
Delaware River – This river system is thought of by many as one of the best technical dry fly fisheries in the world. If you are located in the east and are wanting the full experience, this just might be the best choice for you. In nearby towns are a variety of reasonable drift boat and other gear rentals, or fully guided services, if DIYing isn't what you had in mind.
Oswego River – This popular section of water is home to huge runs of steelhead as well as other migratory species. As the season generally runs September through May, it makes for an ideal winter excursion. Access is reasonably easy on account of dammed sections. If I were to find myself in the Empire State, this would be my go-to spot.
Washington
Bogachiel River – The winter run is quite significant and lacks the crowding of other rivers. It's located on the Olympic Peninsula, complete with breathtaking scenery and hospitable small towns. Additionally, if you wanted to make a trip of it, take along the skiing equipment, as the slopes are never far away.
Cowlitz River – Offering summer and winter steelhead, the Cowlitz located in the drainage of Rainier boasts the largest production of hatchery steelhead in the state. With the target-rich environment, this is an ideal spot at most times of the year. It's also only two hours distant from Seattle for those flying in.
Idaho
Clearwater River – Consisting of the North Fork, South Fork, and Middle Forks, the Clearwater River system has some tremendous steelhead fishing, especially at the height of the spring run. Access is reasonably convenient with highways running along each river. There are a number of small towns spaced along the length for convenient lodging, food, and brews.
Salmon River – The Salmon River flows through a granite-walled canyon is one-fifth of a mile deeper than the Grand Canyon. The main Salmon River and nearby Little Salmon are the spawning grounds of monster steelhead each year. In fact, for almost 180 miles, the Salmon River Canyon is more than one mile deep! Wild and hatchery steelhead enter the Salmon River in the fall and fish runs can greatly depend on the weather and water levels leading up to and in October. A fun combo trip might be to book a spring rafting trip complete with huge whitewater along with time to wind down while fishing from shore or a drift boat.
Oregon
Further down the Pacific Coastline is Oregon, which boasts some of the best steelhead fishing locations in the lower 48. Year-Round steelhead fishing in Oregon is possible in a variety of areas, and there is a host of other species worth trying for if the steelhead aren't biting.
Rogue River – Besides being a great rafting destination, the Rogue hass 215 miles of fishable water. It's floatable by drift boat all the way to the ocean from the main hatchery at Lost Creek Lake.
Clackamas River – This river's claim to fame is its accessibility. If you aren't the sort to rough it or merely want an utterly laid-back fishing trip, this could be for you. Both winter and summer runs flood the river with steelhead.
Nestucca and Three Rivers – This is an area encompassing the Nestucca River and the Three rivers tributary housing a hatchery. Three Rivers often beats out the Nestucca in numbers of caught fish because of its bank access and hatchery. Early and late winter runs are when the largest volume of fish is seen, though seasons extend beyond this.
Deschutes River – The Deschutes River has a strong summer steelhead run, and our outfitter there is awesome!
Are you interested in booking a fishing trip?
We work with wide variety of steelhead fishing guides and outfitters in all of the major runs. So if you're looking for a great fishing trip, get in touch. We think you'll love working with us.
Ask For Pricing or More Information
Here are some steelhead fishing trips that you might like:
Ask Us About a Fishing Trip Request pricing and availability
Discover why thousands of people have trusted Outdoors International to help plan their trips.
Outdoors International has a team of hand-selected fishing experts to help you book your next trip. Our job it is to help you in researching, booking and planning a great trip with one of our amazing outfitter partners around the world.
Second time I've done this particular trip. The steelhead run was awesome! The food was even better than the first time, which is hard to imagine, and our guide is the best there is! If catching big fish is your thing I highly recommend booking through Outdoors International.
We had an incredible time fishing in Mexico. We've already booked our next trip and can't wait to go back!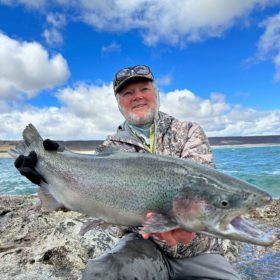 I expected big trout on this trip based on all the stories I've read over the years, and I was not disappointed! I broke my own personal best rainbow trout record at least SIX times on this trip, with the biggest being a 16 pound beauty.
I will be going again soon!