Fall steelhead fishing in Alaska can be incredible, and a couple weeks ago it worked out that I was able to go visit one of our newest outfitters.
I had just finished my season of guiding in Bristol Bay and had some time to spare before needing to travel to the lower 48 for another trip. I called Matt up and told him the dates I would be available to fish. Even though he was already over booked for his opening week of fall steelhead fishing in Alaska, he got us set up for a day of fishing with one of his veteran guides. We met our guide early in the morning at the boat launch, ditched our vehicle and jumped in with him. (Usually guides will pick up guests right at the main lodge but since all of the cabins were full Lacey and I stayed in town at a friends place.)
Our fishing guide was great.
Ben our guide was helpful and accommodating by grabbing our gear and stuffing it in his truck. As we drove the gravel road farther up river to the put in spot the fog thickened, we saw a big bull moose from the truck as we sipped our coffee. The air was cool and wind still, a perfect morning for steelhead fishing. We were the first ones to the launch but really there would only be two other boats that launched that day anyways. One was another guide that works for the same company and the other a private boat that Ben knew whom were friendly and did not disturb us all day. Talk about a low-pressure river!
Lacey started strong.
The action started out early in the morning with Lacey hooking a Silver salmon followed by a pair of steelhead to the net before I could even hook up!
Ben had us fish indicator rigs with beads underneath. I landed one before we left the spot and hopped back in the boat. If you're into numbers… Lacey had two and I had one steelhead to the net before the coffee in my thermos could get cold; add a few more hook ups and we were already into a stellar day of Steelhead fishing.
We continued to fish beads while Ben drifted us along cut banks and likely holding spots.
A few Dolly Varden were caught along with a big chrome buck that jumped several times only to break Lacey off before she could tire him. Our next spot we stopped I helped Ben rig up his Spey rods for us.
I started at the top of a long gravel bar meant for swinging and Lacey began in the middle. This run was so perfect; as the fly began to swing each cast I was confident I was going to hit a fish. Sadly I didn't and I only felt a couple pulls, nothing committed. The sun was up now and had burned through the morning fog and I think that played a big factor in finding an aggressive fish to eat.
We stopped for lunch and decided we would try a few more spots swinging but all agreed we should fish beads while we drifted to those spots.
Lunch was great. Ben along with a couple of the other guides are also chefs and help create the lunches for the week. We had plenty of food to satisfy us. Ben set out a grilled Panini, charcuterie board, pasta salad, macaroons, water, and a couple rainier beers to wash it all down.
After lunch Lacey was back at it and stuck two more fish while fishing the indicator rig from the bank while I had none. I knew her bantering would catch up to her…we started to drift again and I immediately hooked a hot fish.
She tore off line and jumped then ran straight back at the boat. I thought she was gone, then the slack tightened again and she was in the middle of the river jumping. I couldn't do anything this fish was kicking my butt!
Finally Ben rowed us into a slow spot and we were able to jump out of the boat and bring her to the net. She was perfect, a dime bright hen covered in sea lice. She had just moved into the river system that day which explained her acrobatics and explosive fight.
We tried to spey fish another bar but deemed it not a productive day for swinging which is ok.
When you can catch as many fish as we were on an indicator rig I will do it! We were running low on time but I could tell Ben didn't want to be done with his day and wanted to keep us fishing longer.
He kept asking if we had to do anything before dinner at 7pm at the lodge or if we could keep fishing. Of course we opted to fish longer and just would scramble out of our waders and speed a little to make it to dinner on time.
On the float out I landed three more fresh steelhead and Lacey added one in a short period of time. Not counting the ones we lost we had 6-8 steelhead a piece in just one day!
We made it back just in time for dinner.
Over dinner and drinks we talked with the other anglers who were at the lodge for the week. It seemed everyone had caught or hooked steelhead that day on the other rivers as well. Dinner was casual but consisted of great food and good company. After dinner a few of us shared stories around the outside fire before retreating to their cabins to rest their bones for the next full day of fishing.
We fished both of their rivers.
The days before and after our float trip Lacey and I fished the other two rivers that AK steelhead Co fishes. They both have strong runs of steelhead and are walk and wade fisheries. We got into some nice Steelhead and Dolly Varden on beads and also landed a couple swinging flies. Both of the rivers have nice runs and deep holes for holding steelhead. Some of the runs are great for swinging flies a 6wt switch rod or even a single hand 8wt work well but the guides will have everything you need. When fishing any of the three rivers this outfitter utilizes you will hook into hard fighting chrome fish because many of the fishing spots are just a couple miles from the ocean.

Overall Fishing Review
I was thoroughly impressed with Alaska Steelhead Co on my visit. I am confident that anyone I set up a trip for will have an unforgettable experience fishing Steelhead in Alaska.
Fall steelhead fishing in Alaska with this guide is for any skill level and offers great indicator fishing and spey fishing. Anglers can expect to catch steelhead and that is unheard of in the world of Steelhead fishing! These guys really care about the fishery in which they fish and are excited to show off what they have to offer.
The group of guides here are experienced and willing to help teach new anglers. The fishing equipment is provided, accommodations, and level of service is top notch.
Timing it right is key.
We fished during the first week of the season September 20-26. As I witnessed there are plenty of fish in the system at this time but these earlier weeks are also a great time to split up your trip with a day of Halibut fishing, Rainbow Trout fishing, or fly-out bear viewing. Our outfitter and myself are happy to accommodate and customize your week and make it fit within the package price.
As the season moves into October days become colder and even more Steelhead move into the system. This is the time for the more serious angler looking to catch a high number of Steelhead or swing flies to these aggressive fish.
Are you interesting in fly fishing in Alaska?
Get Pricing, Availability and More Info
Here are some other fishing trips you might be interested in:
Ask Us About a Fishing Trip
Request pricing and availability
Discover why thousands of people have trusted Outdoors International to help plan their trips.
Outdoors International has a team of hand-selected fishing experts to help you book your next trip. Our job it is to help you in researching, booking and planning a great trip with one of our amazing outfitter partners around the world.
Second time I've done this particular trip. The steelhead run was awesome! The food was even better than the first time, which is hard to imagine, and our guide is the best there is! If catching big fish is your thing I highly recommend booking through Outdoors International.
We had an incredible time fishing in Mexico. We've already booked our next trip and can't wait to go back!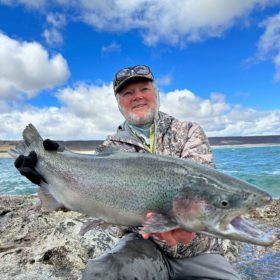 I expected big trout on this trip based on all the stories I've read over the years, and I was not disappointed! I broke my own personal best rainbow trout record at least SIX times on this trip, with the biggest being a 16 pound beauty.
I will be going again soon!