The Bezoar Ibex (Capra aegagrus aegagrus) is a majestic mountain-dwelling goat species that inhabits the rugged terrain of Turkey. Known for its impressive horns and agile nature, this species has captured the fascination of hunters and wildlife enthusiasts alike. The male Ibex boasts magnificent curved horns, which can reach astonishing lengths of over 40 inches, making Bezoar ibex hunting in Turkey among the most sought after of ibex hunts. Its sturdy build, keen senses, and ability to navigate steep cliffs and rocky landscapes make it a challenging and highly coveted trophy.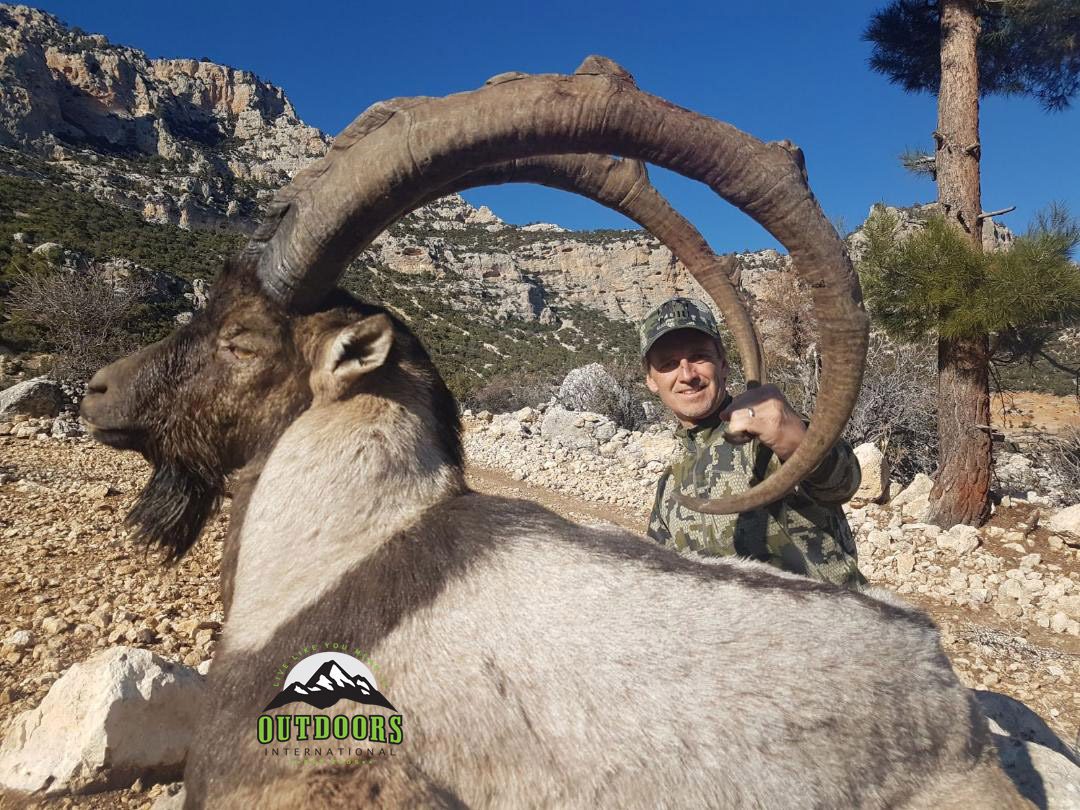 Fully Customized Bezoar Ibex Hunting in Turkey
This ibex hunt is fully customized. Your trophy quality expectations, other species you would like to hunt, and tourism activities will determine where you will be hunting. As you traverse the rugged terrain, guided by your guides, you'll witness the awe-inspiring beauty of the Turkish wilderness. The intense anticipation, combined with the challenging pursuit of a majestic Ibex, creates a profound sense of accomplishment when you finally spot your trophy. The breathtaking landscape serves as a backdrop to this thrilling endeavor, making it a truly unforgettable hunting expedition.
Prime Hunting Destinations in Turkey
Turkey offers a diverse range of habitats, from snow-capped mountains to vast plateaus and dense forests, providing an ideal environment for Bezoar Ibex hunting. Some of the most renowned hunting destinations in Turkey include the Taurus Mountains, the Konya Province, and the stunning landscapes near the Mediterranean and Aegean coasts. These regions offer breathtaking scenery, abundant wildlife, and exceptional hunting opportunities.
Wild boar are a great combo for your Bezoar ibex hunt.
Wild Boar hunting in Turkey employs a range of methods to maximize your chances of success. From traditional spot-and-stalk techniques to driven hunts with well-trained hunting dogs, each method offers a unique and rewarding experience. Our expert guides will accompany you throughout your hunt, sharing their knowledge and ensuring your safety while also enhancing your chances of a successful harvest.
All other animals are in different regions and are not a good combo without some extensive pre-planning. If you do wish to add other species to your hunt, there are options for gazelle, chamois, red stag, roe buck and/or Konya sheep. *They also offer some affordable hunts for hybrid Bezoar ibex.
We suggest adding an Istanbul tourism package to your Bezoar ibex hunt.
Immerse yourself in the rich cultural heritage of Turkey, where ancient ruins and historical sites intertwine with the allure of the hunt, creating an immersive experience that goes beyond the pursuit of game. This outfitter offers an optional Tourism package where you will stay in a 5-Star Hotel, have a private driver, translator and tour guide. Tour destinations include tours of Istanbul; Antalya; Cappadocia; and the Aegean Coasts.
At Outdoors International, we understand the importance of meticulous planning and seamless logistics for a successful hunting expedition. Our team of seasoned professionals is dedicated to providing you with a memorable and stress-free experience. From assisting with permits and licenses to arranging comfortable accommodations and reliable transportation, we take care of every detail, allowing you to focus solely on your thrilling adventure.
Ask About Hunt #OI-GHA1