I went to scout a new outfitter for us in Northern Patagonia near the town of San Martin de los Andes Argentina. I was certain the outfitter was a solid pick up for us but wanted to "get boots on the ground" before booking and hosting trips here for our clients at Outdoors International.
Ron has been guiding and outfitting in Northern Argentina-Patagonia since 1997.
He is well respected in the San Martin area and holds great relationships with the best Estancias offering more private water access than anyone in the area! Ron is one of the top outfitters in Northern Patagonia and I am confident to say he employs the best guides in the area.
In 2005 he was tired of fishing from rafts, and wanted the comfort of fishing from a drift boat like he and many of his clients were used to back in Montana. So he started a relationship with RO Drift Boats and brought the first boat and mold to the region. Fishing these rivers from a drift boat are much more comfortable and conducive to catching fish.
We can create a multitude of custom itineraries based on your needs and wants as an angler as well as your fishing skill and preferences.
From private luxurious estancias to overnight camp trips our outfitter has you covered. During your 6-8 day trip you can plan to fish three different rivers and experience three different lodging accommodations varying from 5-star estancias, nice riverside tent camps, or a hotel in the quaint town of San Martin. The cost range for these trips is anywhere from $4,200 – $6,500 depending on your personal itinerary.
The nice thing about these custom trips is that the logistics are planned ahead of time. This means that drive time is considerably less than many of the other lodges and outfits across Patagonia where you often have to drive 30 minutes to 1.5 hours one way to access and fish the different water. Your guides are all very experienced with many years of guiding on the local rivers. Some are more specialized in certain rivers so your guide will likely change up throughout the week.
Report of my Exploratory Trip
Bear in mind that I only allowed myself six days to tour and fish five separate rivers and properties.

Day 1 – Fishing the Malleo and Chimehuin River
I was picked up from the airport and we toured the San Huberto Estancia, where they have about 30 fishing beats on 30 miles of private water on the Malleo River. This is a gorgeous walk and wade fishery that is near the Argentina/Chile border
.
Mount Lanin a snow capped volcano heads the Malleo valley, the property also has a good number of red stags in the surrounding hills. The Malleo is well known for its prolific mayfly
and caddis
hatches. We stopped and looked at a few of the beats the afternoon hatch was just beginning to happen and one of the pools had 7-8 rainbow trout rising that were 15-19". I was impressed and could have fished that pool for hours to those risers!
Fishing on the Malleo River is great with consistent hatches from December to mid February, and again from late March until the end of April when frosts start.
This is a great river for guys who want to fish dries to sighted rising fish. Spots here can be tough to book but if you can get in you will love this river! You will fish a beat in the morning then have lunch at the lodge and go back out to fish a different beat in the afternoon.
Some of the beats are open meadow stretches, some more wooded, and some fall within a canyon that can take some hiking to fish properly. The Malleo consistently produces catches in the 16-20" range with a good number of 20-24" fish. Contact me for more information.
We then drove over to the Chimehuin River and visited the Tipiliuke and Chimehuin River House which is right on the river.
The river house is a property that Ron is working on buying which will allow him to fully control the lodging and fishing experience for guests on the Chimehuin River. They would be able to fly fish three different rivers per week from the lodge.
It is a beautiful stone structure with large outside patio with great surrounding views. We saw a few wild boar and a red deer when we pulled up to the river. The Chimehuin is a large freestone that offers good fishing with streamers
, nymphs, and big dry flies.
Both wading and float fishing is productive here and you can float multiple sections, parts of the river braid right in front of the fishing lodge and offer endless back channel fishing opportunities. The trout populations are high on this river with many 16-20" browns and rainbows and often fish 24" or better are caught each week.
For the more adventurous guest and perhaps if you are budget conscious an overnight float trip may be in order.
This outfitter can set up an overnight camp on the river trip with two days fishing on this river with designated camp spots. Contact me to book a trip.
After touring both properties Ron dropped me off at the Le Village Hotel in San Martin.
He would have had dinner with me but had to get to the Limay River and guide clients for the next few days. I went and had dinner at a pizza place called Pizza Cala. It was great and a good atmosphere, they even had menus in English, and the waitress knew enough to help me order.
San Martin is a great touristy town of about 40,000. I would compare it to Sun Valley, Idaho with a ski mountain and many trout rivers near by. There are numerous little shops and things to offer in town, it would be worth an extra day if traveling with your wife or family to fish.
Day 2 – Collon Cura, Mid-River
Javier "Shaggy" one of the guides picked me up at the hotel at 8:30 and we drove to the Collon Cura Lodge. The ride was great and Shaggy answered my many questions. He has been guiding with Ron for 11 years and before then he was a fisheries biologist for 10 years for the Neuquén Province of Argentina.
He prepped me for the days trip and what the fishing would be like. Minnow season is from January – March this is when minnows from the below lake migrate upstream to spawn then begin to migrate back to the lake the fish feed heavily on them.
Obviously streamers
will work well during this season but the minnows are small iridescent 1-2" long fish so a small streamer works best. This Estancia has three beats or floats they can do within their property.
Just before pulling into the lodge we saw a herd of red deer feeding in the fields as well as guanaco, horses and cattle this area is beautiful.
My excitement rose as we drove along the Collun Cura River and talked about the days fishing. The lodge is great and we were immediately greeted and brought to my room. One of the lodge staff gave me a brief overview of my room and dinner times etc. Shaggy gave me 15 minutes to get my things together while he hooked up the boat.
We drove 10 minutes down the road and to where we put the drift boat in the water to float the middle section. It was an unusually calm day of fishing and we started with a small streamer to imitate the many minnows. This wasn't traditional big streamer fishing but a small bugger or leech pattern and a slow strip worked well. I caught 4-5 average rainbows that were 15" and spunky hard fighting fish. I also fished a dry and dropper and picked up a small brown before stopping for lunch.
Lunch was great with chicken and rice, beets and onions melon and banana bread with offering of wine and beer or soda.
Then we had a siesta, which is normal, but if you don't want one you can wade fish near the lunch spot, the fishing is typically slowest from 1:30-230 anyhow. We had coffee before leaving and heard a stag roaring in the distance, the feel of the river was something special. In the afternoon I caught a few bigger fish on a dry fly one was a beautifully dark colored 18" rainbow that turned completely around to eat my fly.
I also caught 15 or so more fish on the small streamer some of them being 18-19" rainbows. In addition we netted two 16" browns on the streamer. On the drive home we saw two nice red stag cross the road in front of us and I was able to get a decent photo of one! What a great day out on the river and Shaggy was an excellent guide!
We had cocktails and appetizers while talking with the other clients who all seemed to have a fantastic day.
For dinner we had a Gruyere cheese flan with tomatoes followed by a delicious steak that was from the exact estancia we were fishing served with sides of wedge potatoes and a salad. Dessert was a delicious apple blueberry crumble. Wow… dinner was spectacular!
Patricia the manager of the lodge was great and asked all of us individually how our meals were as well as if we needed anything in our rooms etc. Shaggy offered the same and laid out the plans for tomorrow. Seeing as the morning forecast looked quite windy we will do a later start and stay on the river later into the evening. We will fish the lower beat and the fishing is typically better later in the day this time of year. I am excited!

Day 3 – Collon Cura, Lower River
I woke up before breakfast and walked around the ranch pond where they have a nice mowed trail. Stag were roaring all around and my intent was to get close for a photo. I got to within 70 yards of a large stag and a few hinds before they spooked out. Further out in the fields there were many other deer running about. It was a great morning and the sunrise lit up the clouds in a pink glow. The pond had many different ducks, egrets, and black-necked swans on it.
Breakfast was typical Argentine portions of eggs and bacon with coffee, tea, and juice.
Shaggy and I drove 5 minutes to the river at 11 AM and it was windy but I managed 5 or more fish on a chubby Chernobyl dry fly
and then another 2-3 on a small streamer. We pulled up to a braided pinch point that had a small drop off with fast water into a little back eddy. You could see fish hunting and crushing minnows in a small eight foot by six-foot area. The minnows must get swept in there while migrating back to the lake and it creates a feeding frenzy for the trout.
Shaggy set me up down river on the bank and explained how to fish it. Pow! First cast was a nice 18" rainbow that jumped a good three feet out of the water when I hooked her. I followed up with five more nice rainbows and a few missed fish, however we kept seeing a nice brown chasing minnows, so Shaggy decided to change flies and a few casts later I hooked up on a brown. This wasn't the one we saw but much much larger! He was up and down the river in and out of heavy current and a few fat lazy jumps later I was able to get him to the soft edge and into the net! I was mildly freaking out when I had him hooked because I could tell he had shoulders and was a huge brown, 27" to be exact!
This was one of my best brown trout from any river and it had my hands shaky, it's not often a fish does this to me. What a great fish and great guiding for Shaggy knew there were nice fish in that pool and knew just how to fish it. This was the best brown so far this season for the Collon Cura. It seems each year they land a few browns 25-28" on this stretch of river. Pair the chance at a giant up with the high numbers of quality rainbows and you have the perfect river!
I landed a few more nice rainbows and we took lunch and I of course drank a beer on that fish and the incredible day we were having so far.
Sometimes the trout here eat so much and stop eating or we catch them and they are puking hundreds of minnows. At times the migration moves in waves or spurts and when a bunch of minnows come through an area it can trigger the frenzy. As for other baitfish in the river they have perca which is a perch species and can often feed on them when they are adolescents, small catfish (similar to our sculpin lives in the bottom and are bad swimmers), silver sides which when are small the trout will feed on them they are similar to a white bass, lastly the pancora crab which is the size of a crawdad but actually a crab species so a larger streamer can work it just isn't necessary.
After lunch I landed another big brown that was 23" and I saw it come from the deep pool and crush my fly just under the surface with water splashing the sun lit up the colors.
It was one of the coolest and most aggressive eats I have had from a trout. Once I was hooked she was off on a long run pulling line from my reel. This type of fishing is so great because your fly is just under the surface a few inches so you often see the boil before you actually feel the trout take your fly. After some photos of that brown we continued floating and caught many more 14-18" rainbows. Toward the end of the float I cast into a back eddy per Shaggy's instruction and had a fish boil 3 times on my fly before I pinned up on her. She took me about 100 feet into backing and when I finally landed her I was surprised at how thick and healthy this particular rainbow was. This one fought so hard for the size it was incredible with many jumps and line ripping runs. As Shaggy pulled the boat up I fished a side channel and landed five of six rainbows in as many casts. What an exceptional day of fishing we had, this place is incredible. Overall we did more wade fishing than yesterday and fished the drop offs and riffles where the fish lie in wait for the minnows.
I had a whisky to celebrate that big brown and had to show off a photo to the other fisherman at the estancia. They all seemed to have great days on the water as well and we laughed while exchanging stories. Dinner was a variety of appetizers, lamb asado, mashed potatoes, salad, and a chocolate blueberry cake.

Day 4 – Limay River
I decided to go on another walk and was able to watch multiple stag roar and chase hinds around. With the Collon Cura River behind the stag and the sun lighting up the surrounding mountains it made for a great morning.
After breakfast I packed up and Shaggy and I are now headed to fish the Limay with Ron for two days.
Weather looks to be very windy so it will be tough but this is one of those rivers that at anytime you could get some luck and hook into the fish of a lifetime. I feel I caught that fish yesterday, but I wouldn't be mad if I hooked into a 30 inch trout! Anything after yesterday's fishing will be icing on the cake.
We met Ron at the guide house and headed down a dirt road to a section of the Limay.
Ron's excitement level driving to the river was through the roof and unparalleled. He had one day last season where he was able to fish this river and caught a 30 and 34" brown trout! This is the river that at any moment you could land a giant. We fished a riffle and landed 5 of 6 rainbows hooked on a dry and dropper. These are incredible hard fighting fish that are 17-21". I had two refuses on a dry fly from big browns, heartbreakers for sure! It was a windy day and we fished many different techniques. The Limay is a large river and Shaggy and Ron know it well and fished it a few years to figure it out before even offering the trip to guests.
For the day I landed 13-14 rainbows with 3 refusals from big browns and Ron had 6-7 it was a great day and I am excited to fish tomorrow. Dinner was awesome and we ate beef ribs and sausage with the best bread pudding for dessert I have ever eaten.

Day 5 – Limay River, day 2
I got picked up at 8:30 from the hotel and we drove 20 minutes to the river. We put in at a section that was higher up river than we floated yesterday. They have multiple sections they will float depending on water flows. I soon missed a giant brown on a dry fly – I pulled it from its mouth… Then Shaggy and I got into a large back eddy with many rising fish to Caddis and mayfly spinners. I missed one then had a big fish straighten my hook. Eventually landing two nice rainbows on mayfly spinners.
We moved on after we exhausted that pool and began to sight fish up a soft edge where the shelves of bedrock went to a deep drop off into the main river.
We spotted a big fish sipping and I made a few decent casts before Shaggy said "you have no more fly right? Hold on I'll go get another." I laughed pretty hard "no I don't, that one the bushes took". This is tough and technical fishing. Long casts and good presentations are much needed here to be successful. Once I got re-tied the next cast I landed a 21" rainbow. We hooked a few more on dries by working up the shelves that ended up breaking me off on the rock. Lunch was great as usual and this time we were in the trees so we set up a few hammocks to take our afternoon siesta.
The afternoon was on fire…though I personally could not land any of the fish.
Ron landed two great browns on a dry and Shaggy fished for a short while and landed a great chromey brown trout. My fishing skill was off this day and I literally pulled my fly or set the hook too early on 6-7 big browns. It is so difficult when you can see these huge fish shadows coming for your fly. Or when from out of nowhere they come and just crush your fly the excitement level had me setting the hook before the browns fully had my fly! I will never forget the last one. We were just 100 meters up river from the boat launch and Victor had the trailer in the water waiting for us. It was last light and last shot. I made a cast and got to watch this huge brown slowly porpoise on my fly, the sun set behind us and up river lit this fish up so perfectly…and like many times before I let my excitement get to me. It was so frustrating but such an incredible day and I can't wait to fish the Limay again next season.
The accommodations are decent despite being at the nicest hotel in town, however the food makes up for it as they rent a guide house and have a nice garage area with grill etc to have dinners and hang out for a while after your days fishing.
The Limay is not for everyone and you will need to be an average or above average angler to do well here. Even still some days are plain tough, but the opportunity at catching your largest brown trout is the big draw to fishing here. Just keep in mind when planning your trip that the Limay is an angler's destination and it is a challenging river. That being said I loved it!
Day 6 – Filo Hua Hum
We drove over to the Filo Hua Hum to see the lodge there and the river. This property is 14,000 acres and one of the most beautiful places I have been. The ambiance of the lodge is incredible with custom woodwork and a view over Lago Filo Hua Hum that is stunning. Stag were running all about in the valley and cattle grazed as we drove to the river. This property has 11 miles of river that is small freestone with large browns and rainbows. Typically this river is only fished in the beginning part of the year until Mid February because the flows get low and the fish even spookier. This is a unique fishery and most folks love it but you have to understand you are stalking and hunting for a few big fish. This is not a beginner river or a river to fish for numbers.
It was a very windy day and the water was indeed low but we decided to fish the shaded areas and rocks where the typical holding water for a big brown would be.
It didn't take long to get an aggressive take on a foam hopper
. I missed him. We worked up to a rock where Ron and client had spooked out a large brown from weeks prior. The third cast to the front of the rock and few twitches was all he could take and we saw him move out five feet to slurp my fly. From above Ron yelled with excitement. I set, but the hook didn't stick. Ahh! I figured that might have been my shot for the day.
I moved up to another run and once again from a deep shadowed rock a fish boiled and slurped my fly down.
This time my hook stuck, having no idea how big it was I ran up river to get closer so I could keep the fish from wrapping me into the rocks and breaking me off on the way back to his lie. Ron came over and tailed the fish. Wow! He was a gorgeous buttery brown 20-21" and thick. I was impressed at the size of the fish that came out of this water. We worked a few more runs and spooked another fish that probably went 24" following that I had two more missed fish. It was a great couple of hours on the water and I think the wind played to our advantage by putting a ripple on the water making the fish less spooky. A typical day on the Filo Hua Hum River you can expect 2-3 fish to hand with 3-4 more shots at fish. These will be all 19-24" big browns with the occasional over 24" fish. If you are into sight fishing and slowly stalking a river this is one that needs to be on the list to come fish! I really enjoyed the Filo and the surrounding mountains and vistas are unmatched. Reminded me of fishing in Colorado where I started my guiding career. Stalking big browns and rainbows is so much fun and I hadn't done it in a long time.
Get More Information About This Trip
My Summary of this Fishing Trip
Overall, my review of Ron's outfit and operation is a very positive one. I was thoroughly impressed by the level of his guides and the knowledge of the fisheries they harbor. The option of fishing multiple rivers during your stay and staying at different lodging and accommodations is a huge positive in my book as it adds to the overall experience. The way that Ron systematically plans out the logistics and customizes each itinerary is brilliant. This eliminates much of the drive times and offers his guests more time on the water and more time relaxing.
Added to the customized trips the guides knowledge and flexibility allows you to start late if you want or stay late on the water if they predict a hatch and better fishing times later in the day.
On these trips all flies are included which is awesome because it can be difficult to bring every fly you need and this eliminates the stress of trying to go to your local shop and picking out a few hundred dollars of new flies to bring. They also have guide rods available for use and waders too. By all means if you have your own gear bring it, and if you have flies you want to try bring them but it is not necessary.
I was treated like a king this entire trip and I am excited to come back with a group and show them what fishing these rivers is all about!
Ask Us About a Fishing Trip
Request pricing and availability
Discover why thousands of people have trusted Outdoors International to help plan their trips.
Outdoors International has a team of hand-selected fishing experts to help you book your next trip. Our job it is to help you in researching, booking and planning a great trip with one of our amazing outfitter partners around the world.
Second time I've done this particular trip. The steelhead run was awesome! The food was even better than the first time, which is hard to imagine, and our guide is the best there is! If catching big fish is your thing I highly recommend booking through Outdoors International.
We had an incredible time fishing in Mexico. We've already booked our next trip and can't wait to go back!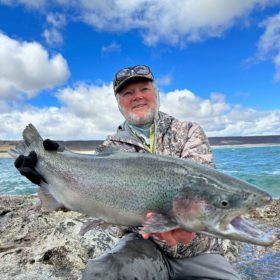 I expected big trout on this trip based on all the stories I've read over the years, and I was not disappointed! I broke my own personal best rainbow trout record at least SIX times on this trip, with the biggest being a 16 pound beauty.
I will be going again soon!