---
Collon Cura River
The Collon Cura River is a wide, fish-filled Patagonian steppe river. It is a classic riffle-run-pool river with classic willow-lined banks, fished both by floating in drift boats, and by wading. The river is filled with powerful rainbow trout and large browns that can be fished for with dries, nymphs and streamers.
The season starts on the Collon Cura River in late November, often with dense mayfly and caddis hatches. These continue through December and January, the favorite months for those who like to match hatches as well as throw large attractor dries.
As well, the famous "Inchworm Hatch" occurs in January. The numbers of big fish on the surface gobbling insects in these months can be unbelievable!
As the summer days get longer and warmer in February and March, the insect hatches tend to occur in the mornings, followed by tremendous action pounding the banks with large foam dries. These are the months anglers normally begin to see a smattering of the huge brown trout that migrate up from the downstream lake, and it is not unusual to hook them on big dry flies.
In February the unique "Minnow Hatch" occurs, with tens of thousands of small baitfish running up out of the downstream lake, migrating for miles upriver, then turning around and running the trout gauntlet back downstream. It is not unusual to hook dozens of beautiful big fish on small streamers during this phenomenon, often casting to fish that are blowing small baitfish into the air!
For those who really want to concentrate on huge lake-run browns, April is a prime month, and anglers should be ready to throw large streamers on sinking tip lines. The river's many rainbows will often continue to come up for dries this month, but the days are getting cold!
Ask Us About a Fishing Trip
Request pricing and availability
Discover why thousands of people have trusted Outdoors International to help plan their trips.
Outdoors International has a team of hand-selected fishing experts to help you book your next trip. Our job it is to help you in researching, booking and planning a great trip with one of our amazing outfitter partners around the world.
Second time I've done this particular trip. The steelhead run was awesome! The food was even better than the first time, which is hard to imagine, and our guide is the best there is! If catching big fish is your thing I highly recommend booking through Outdoors International.
We had an incredible time fishing in Mexico. We've already booked our next trip and can't wait to go back!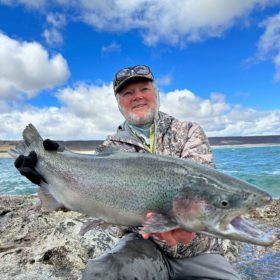 I expected big trout on this trip based on all the stories I've read over the years, and I was not disappointed! I broke my own personal best rainbow trout record at least SIX times on this trip, with the biggest being a 16 pound beauty.
I will be going again soon!