While fishing in Costa Rica, you can catch blue marlin, roosterfish, Atlantic sailfish, tarpon and many other species. With two expansive coastlines, extensive wetlands, and multiple rivers, this could very well be an angler's dreamland. Costa Rica strongly believes in the preservation of its fishing resources and encourage all billfish and non-edible fish to be released.
If you're fishing from a boat in Costa Rica, you are required to purchase a fishing license. Licenses are about $15/person for a week and may be included in your fishing charter. Fishing licenses can be purchased online, through the INCOPESCA offices, or through your fishing charter.
Fishing Hotspots in Costa Rica:
Los Suenos Marina, Central Pacific
Los Sueños Marina is one of the world's best-known charter sportfishing marinas.
Fishing Los Sueños, with its Pacific saltwater charter fleet of international-class tournament captains, is today the number one Costa Rica fishing destination. The Los Sueños complex on Herradura Bay is situated on the Central Pacific coast, just a 75-minute drive from San José. It includes the full-service charter and private marina, known to everyone who wants to fish Costa Rica. There is the four-star Los Sueños Marriott Hotel.
Peak offshore billfish season between January and April is incredible. However, anglers who fish Costa Rica will catch Sailfish, Blue Marlin, Black Marlin and Striped Marlin all year long.
Quepos, Central Pacific
Located on a tropical inlet, separating the luscious rainforest from the crystal clear waters of the Pacific, Quepos is the perfect vacation setting.
Fishing was always a way of life on these shores, and now it's a part of the package for visiting tourists too.  In Quepos, you'll probably do some inshore fishing for roosterfish and snook. Reef fishing in Costa Rica means going after Snappers and Groupers. Cubera Snapper and Broomtail Grouper are two of the more common species you'll find in Quepos, but there are plenty more that may be biting. Rock, Yellow, Mullet, or Dogtooth Snapper, along with Bigeye or Yellowfin Grouper are all available pretty much year-round, with Goliath Grouper also making an appearance. Just head out to the edge of the bay.
Northern Caribbean Coast
The Northern Caribbean, where the Rio San Juan and Rio Colorado empty into the sea to create wetlands, is well known for Tarpon and Snook. Dorado, Gaspar, and Tuna can also be caught.
Tortuguero
Tortuguero is the perfect place for you to enjoy some fantastic tarpon fishing in Costa Rica!
Throughout the year, you'll have the chance to work your way up and around the saltwater rivers. Calm and protected from the choppy seas, they offer an ideal opportunity for families to get out and fish in comfort. With the exception of November and December, Tarpon can be caught out on the nearshore waters as well.
Lake Arenal
Lake Arenal is the most popular inland fishing destination in Costa Rica.
The lake is the largest in the country and sits at the base of Arenal Volcano. Fish for the freshwater guapote or rainbow bass. You may also catch the fighting machaca fish.
Are you interested in going fishing in Costa Rica?
Ask For Pricing or More Information
Here are some more fishing trips that you might like:
Ask Us About a Fishing Trip
Request pricing and availability
Discover why thousands of people have trusted Outdoors International to help plan their trips.
Outdoors International has a team of hand-selected fishing experts to help you book your next trip. Our job it is to help you in researching, booking and planning a great trip with one of our amazing outfitter partners around the world.
Second time I've done this particular trip. The steelhead run was awesome! The food was even better than the first time, which is hard to imagine, and our guide is the best there is! If catching big fish is your thing I highly recommend booking through Outdoors International.
We had an incredible time fishing in Mexico. We've already booked our next trip and can't wait to go back!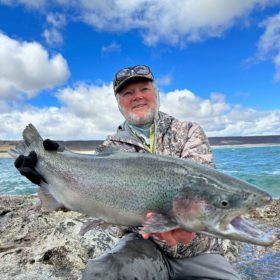 I expected big trout on this trip based on all the stories I've read over the years, and I was not disappointed! I broke my own personal best rainbow trout record at least SIX times on this trip, with the biggest being a 16 pound beauty.
I will be going again soon!