Angler: Patrick Kissel
Date: January, 2022
Trip Taken: Mexico Offshore Fly Fishing Trip
Consultant: Outdoors International
I hadn't had a legitimate shot at a sailfish or dorado with my fly rod in four days of bobbing around in the ocean. On this morning I saw my guide Chucho straining his eyes. I stood and looked in that direction – "a f***ing tree!" I mumbled in disbelief. I knew there would be an entire ecosystem under it.
I got to the bow of the panga and got ready.
I could see the golden shadows cruising underneath from quite a distance. First cast a small bull ate my fly and came straight my direction and under the boat then jumped on the other side before I could even come tight. He was gone. Another scan of the area I saw 2 bull dorado cruising, I flopped my big popper out – it casts like an entire wet chicken on my 12wt and luckily it landed 10 feet in front of them. Two chugs of the popper and this one was on peeling line and jumping. I gave him a couple sets with the rod and the fight was on. My excitement when we finally got him in the boat was enormous!
We were fortunate to put together a great group of anglers and friends to host down in old Mexico. We will be back!
Get More Information About This Trip
Are you interested in booking a trip?
Ask For Pricing or More Information
Here are some more fishing trips that you might like:
Ask Us About a Fishing Trip
Request pricing and availability
Discover why thousands of people have trusted Outdoors International to help plan their trips.
Outdoors International has a team of hand-selected fishing experts to help you book your next trip. Our job it is to help you in researching, booking and planning a great trip with one of our amazing outfitter partners around the world.
Second time I've done this particular trip. The steelhead run was awesome! The food was even better than the first time, which is hard to imagine, and our guide is the best there is! If catching big fish is your thing I highly recommend booking through Outdoors International.
We had an incredible time fishing in Mexico. We've already booked our next trip and can't wait to go back!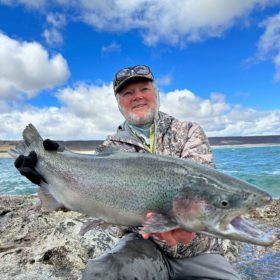 I expected big trout on this trip based on all the stories I've read over the years, and I was not disappointed! I broke my own personal best rainbow trout record at least SIX times on this trip, with the biggest being a 16 pound beauty.
I will be going again soon!