Ditch the Cell Phone
While it is true, cell phone cameras have gotten substantially better over the years. But the image quality is still not comparable. If you have a nice camera, bring it. It is worth it. On my most recent trip to Greenland, the side by side comparison of cell phone photos to my Sony A7III are astounding. Especially if this is a bucket list type trip, you'll be glad you brought it.
If you have a camera and you don't know how to use it properly, practice ahead of time. Go outside and take pictures of some things and learn how to focus and adjust for things like lighting. A few hours of practice will make a huge difference and the payoff is something you will remember forever when you see those photos.
If I only had cell phone photos on my Greenland Muskox hunt last March it would not do the trip, the scenery, or the animals justice. See for yourself.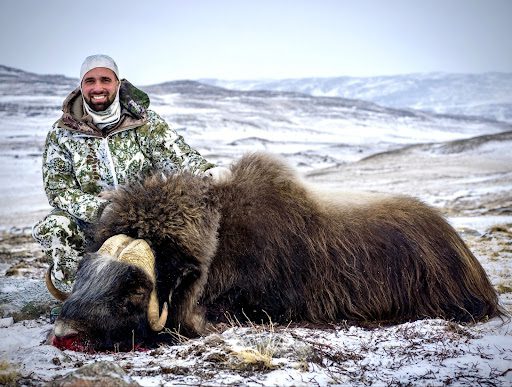 Check the Lighting
Not every trophy photo is going to be at that golden hour in the first hour of sunlight or the last hour before dark. Sometimes you just have to make it work in the middle of the day. A cloudy day would work great! But if it is a big blue sky, things get tricky!
A good rule of thumb to remember is "All in the sun or all in the shade." Nothing will ruin a photo like big patches of sun or shade on someone's face or on the animal. So take the time to look around and find a good spot.
If you opt to shoot all in the sun, putting the sun over the camera/photographer's back shoulder will provide the best light and shadows. Shooting in low light or night time can be difficult. Practice ahead of time. Learn how to make the proper shutter speed adjustments on your camera. With a little practice and perfecting, nighttime shots can turn out incredible!
Clean it Up
We've all seen those photos that look like a massacre occurred. Be respectful. Wipe off any excess blood. Stick the tongue in. Make the animal look presentable in a way that wouldn't offend the casual person who might see the photo. This is a sign of both respect for the animal, but shows a lot about who we are collectively as sportsmen.
This Fallow Deer was a heart shot and covered in blood. You can see the staining on the light color of the hide. But I used a baby wipe before the shot to make sure it was clean and presentable.
Angles, Angles, Angles
Take lots of pictures, from lots of angles. Not only does this make it fun, but sometimes that picture where you think, "this is silly, but let's try it" turns out to be incredible.
Usually being on the same level as the animal or the hunter works well. Not too high that you're looking down on them, and not too high where they look sky-lined and distorted. Be creative, have fun and take lots of photos, from lots of angles.
When I asked my friend to take a photo shooting down the spine of the deer, he looked at me like I was crazy. But this is one of my favorite photos. Remember, you can always press delete after the fact!
Set the Scene
Clear the brush around the animal. Sometimes this means you might be cutting grass or pulling weeds. Make sure there are no 4wheelers or trucks in the background. Move your backpack, or other things away so that the eye focuses on the hunter and the animal. If you are the camera guy, look around and make sure you have a clear line of sight. Take a few extra seconds to scan all the way around.
On the Texas whitetail hunt, I had to do a lot of weed pulling, but I am glad I did. Your eyes now go immediately to the deer. Weeds and other obstructions can be a distraction in  even the best trophy photos..
If you've got a bucket list hunt you've been wanting to go on, talk to one of our agents today and lets make a plan to get you on that trip! The stories, photos and experience will last a lifetime. We can help you with the trip, but now it will be up to you to make sure the photos turn out.
by Austin Legg