If you're looking for a reason to visit Hawaii or if you already have a trip planned and want to add some hunting to your itinerary, Outdoors International has the perfect solution for you. We are proud to collaborate with one of the best outfitters in the islands, offering a thrilling two-day, one-bird Hawaii turkey hunt for Rio Grande gobblers on the Big Island.
Wild Turkey Hunting in Hawaii
To turkey hunt Hawaii is to experience a unique hunt in the tropical forests, plains, and mountains that most people visiting the islands will never experience. There are very few places in the world where you can stay at a resort destination, experience amazing weather AND incredible year-round hunting.
Wild turkey hunting in Hawaii is some of the best in North America, with lots of gobblers and some amazing, unique country to hunt in.  In the early 1960s, Texas transferred approximately 400 Rio Grande wild turkeys to the Hawaiian Islands. Since then, the turkeys have flourished.
Hawaii has great hunting for Rio Grande wild turkeys.
This is a unique turkey hunt, different from turkey hunting anywhere else in the world. In Hawaii, you chase gobblers at elevations of 6,000 to 10,000 feet in the morning and hang out on white sandy beaches in the afternoon.
Combo with Hawaii exotic big game species.
Hawaii spring turkey hunting season is in March.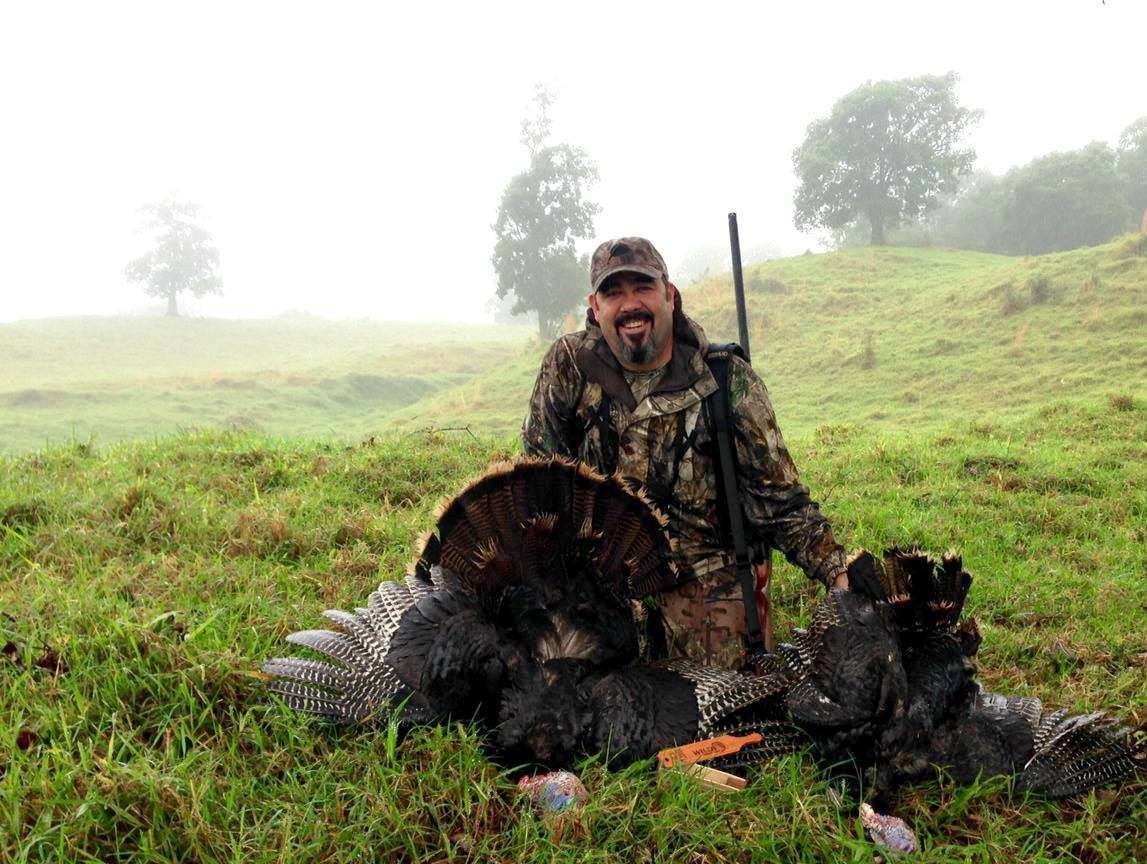 This Hawaii turkey hunt takes place on 20,000 acres of private land that is teeming with turkeys.
A Hawaii turkey hunt with our outfitter on the Big Island gives you exclusive access to some of the best private ranches in Hawaii. These hunts have a high success rate and provide an incredible experience. With our seasoned outfitter and top-notch guides, you can rest assured that you'll have a fantastic hunting adventure. All of the guides have years of turkey hunting experience, and they do plenty of scouting before you show up. Odds are that you'll be setting up on a big roosted gobblers on the first morning. Oh….leave the crow and owl locator home, because they don't live in Hawaii.
This can be a great combo hunt as well.
After you're done for the morning, you can go after feral goats, mouflon sheep, black Hawaiian sheep, hogs, and even Vancouver bulls. Whether you are an experienced hunter or a first-timer, these hunts offer an exciting opportunity to explore the beauty of Hawaii while enjoying a memorable hunting experience. Join us for this unique Hawaii turkey hunt create lasting memories in the stunning tropical landscape.
Are you after your Wild Turkey Grand Slam?
To get their Rio Grande gobbler, Kansas or Texas typically come to mind first for most hunters, but Hawaii makes a great place to start. If turkey hunting in the mornings, and hanging out on the beach with your family in the afternoon sounds good to you, turkey hunt Hawaii! It's not for everybody…but we think that maybe it should be.
At Outdoors International, we understand the importance of meticulous planning and seamless logistics for a successful hunt. Our team of seasoned professionals is dedicated to providing you with a memorable and stress-free experience. From assisting with permits and licenses to arranging comfortable accommodations and reliable transportation, we and our outfitters take care of every detail, allowing you to focus solely on your thrilling adventure.