This is a great traditional, horseback wilderness elk hunt with plenty of game and very few people. Success rates for 5-6 point bulls are high on this Frank Church wilderness elk hunting trip. You won't see many other hunters on this Frank Church wilderness elk hunting trip, because it's remote country to say the least. You'll fly into a backcountry airstrip where you will be picked up by the outfitter on horseback. From there you will ride into base camp to begin your Idaho wilderness elk hunt.
You should see lots of wild game!
We can almost guarantee that you will see game on this hunt. Here the wildlife has rarely before seen man, it feels as though you have stepped back in time. You could see bighorn sheep, black bear, mountain lion, mule deer, and be sure to have a wolf tag in your pocket! Most likely you will get a shot at a bull, and as you can see from the pictures, these outfitters take some nice 300+ inch bulls every year.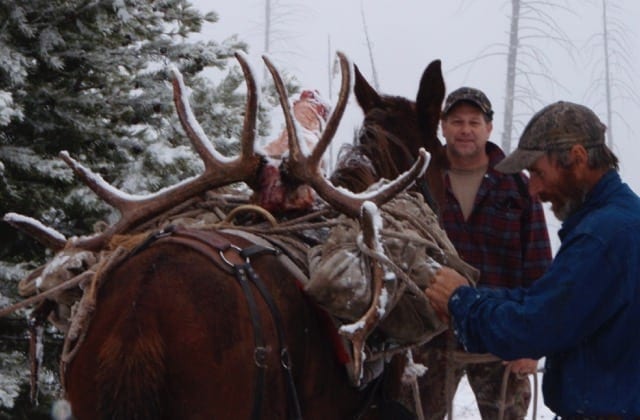 Get ready for a true "Mountain Man" experience.
This traditional, horseback style hunt in the beautiful Frank Church River of No Return Wilderness in Idaho has been considered by many of our hunters as the hunt of their lifetime. This camp is VERY REMOTE, and our outfitter does an amazing job of running it. You will be staying in very comfortable wall tents with wood stoves. There are two hunters to one tent so there will be plenty of space. Sometimes you might hunt out of spike camps, or camps away from the main camp. It's as luxury as it gets for this type of backcountry hunt.
It is one of the few places left where you can leave civilization behind.
There are no roads in the Frank Church. No cars, no power lines and not many people. Since it's so remote, this is one of the rare areas where you can hunt elk during the rut with your rifle and have a decent chance at a mule deer. Later in the season, the mule deer hunting gets better, so it also makes for a fun combo hunt.
Get pricing and availability
Ask about Trip #OI-IWC4