---
Strobel Lake
Surely everyone knows the Strobel Lake for its spectacular trophy rainbow trout fishing. But it would be a shame to just consider that, because it has much more to offer than good fishing. The remote past is present in every stone, slope or valley and one does not have to be well trained to find hundreds of details that transport us thousands of years back, when a simple stone carved glass made the difference between life and death.
The main source of food for the rainbows of Lago Strobel is the scud, or rather, scuds (there are a few species in the system). These native invertebrates are so numerous in the lake that they provide vastly more forage for the non-native rainbows than the fish could ever possibly use. This imbalance is further insured by the fact that the system's spawning water in the lower reaches of the Barrancoso River is very limited; there will never be enough of it for the population of rainbows in the lake to outgrow their food supply.
Almost all of the fishing on Strobel Lake is done with floating lines, and almost all of it with a minimum of 0x tippet strength.
Under a few select circumstances we may add a sinking poly leader to the line or go down in tippet size a few notches, but this is rare. For the most part the name of the game on Strobel Lake is either to spot the fish you want and cast to him like he's a permit, or to cover the water such that every fish cruising its shores will have a good chance at intersecting the lines described by your flies. Then just buckle in, hold on, and trust your drag; you're in for the ride of your life.
The Barrancoso River
The Barrancoso river, which feeds the Strobel Lake on the early season can easily become the main attraction for its fascinating geography and the big rainbow trout that take dry flies. The river runs through a canyon formed between two basalt flows over a bed of volcanic rocks of the same basalt as the walls, which are deeply fractured in all possible dimensions. Unless it rains suddenly and intensely, the Barrancoso waters are crystal clear and go down many miles with its runs and pools where trout await.
Ask Us About a Fishing Trip
Request pricing and availability
Discover why thousands of people have trusted Outdoors International to help plan their trips.
Outdoors International has a team of hand-selected fishing experts to help you book your next trip. Our job it is to help you in researching, booking and planning a great trip with one of our amazing outfitter partners around the world.
"Second time I've done this particular trip. The steelhead run was awesome! The food was even better than the first time, which is hard to imagine, and our guide is the best there is!
If catching big fish is your thing I highly recommend booking through Outdoors International."
We had an incredible time fishing in Mexico. We've already booked our next trip and can't wait to go back!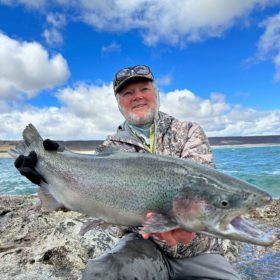 I expected big trout on this trip based on all the stories I've read over the years, and I was not disappointed! I broke my own personal best rainbow trout record at least SIX times on this trip, with the biggest being a 16 pound beauty.
I will be going again soon!