---
Jurassic Lake
Jurassic Lake is the nickname for Strobel Lake, one of the most remote and wild places of Southern Argentine Patagonia. Famous for its incredible trophy rainbow trout fishing in pristine waters, Jurassic Lake is easily one of the very best trophy rainbow trout fisheries in the world.
One of the best trophy rainbow trout fishing destinations in the world.
Lago Strobel is a large desert sink lake found at 3,000 feet of elevation in a remote and desolate rangeland in Southern Argentina. This is wild, windswept country deep in the heart of Patagonia. Jurassic Lake's cold, turquoise water is filled with huge numbers of rainbow trout feeding on the lake's incredible populations of scuds and other aquatic insects. This seemingly endless supply of food, relative lack of angling pressure and little natural predation allows the trout to grow to astounding sizes in a short amount of time.
You can productively fish Jurassic Lake with a variety of streamers, dry flies, nymphs and scud patterns.
You'll fish with floating lines most often, but will occasionally opt for intermediate or sinking fly lines in certain places or conditions. The trick to consistently catching these fish is to master a slow, deliberate retrieve. Anglers can also have great opportunities to sight cast to cruising trout, especially on calm mornings and evenings.
Ask Us About a Fishing Trip
Request pricing and availability
Discover why thousands of people have trusted Outdoors International to help plan their trips.
Outdoors International has a team of hand-selected fishing experts to help you book your next trip. Our job it is to help you in researching, booking and planning a great trip with one of our amazing outfitter partners around the world.
Second time I've done this particular trip. The steelhead run was awesome! The food was even better than the first time, which is hard to imagine, and our guide is the best there is! If catching big fish is your thing I highly recommend booking through Outdoors International.
We had an incredible time fishing in Mexico. We've already booked our next trip and can't wait to go back!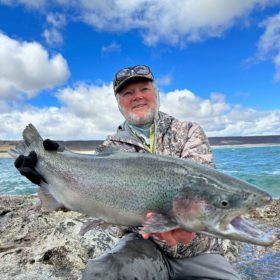 I expected big trout on this trip based on all the stories I've read over the years, and I was not disappointed! I broke my own personal best rainbow trout record at least SIX times on this trip, with the biggest being a 16 pound beauty.
I will be going again soon!